100% PURE
Not mixed with black seed oil or seed blend
GMO-FREE
Certified free from GMO
CHEMICAL-FREE
Free from Chloramphenicol
LAB TESTED
For purity and quality
100% PURE
Not mixed with black seed oil or seed blend
GMO-FREE
Certified free from GMO
CHEMICAL-FREE
Free from Chloramphenicol
LAB TESTED
For purity and quality
Regular price

From RM159.90

Regular price

Sale price

From RM159.90

Unit price

per

Regular price

Sale price

RM149.90

Unit price

per
Miracles made possible only with black seed honey
Digestion
& Gut Health
Healthier Heart
& Blood
Immunity
Support
Daily Energy
Boost
Better Sleep
Digestion
& Gut Health
Healthier Heart
& Blood
Immunity
Support
Daily Energy
Boost
Better Sleep
358,429+
Happy spoonfuls of honey eaten
CHECK OUR FAQS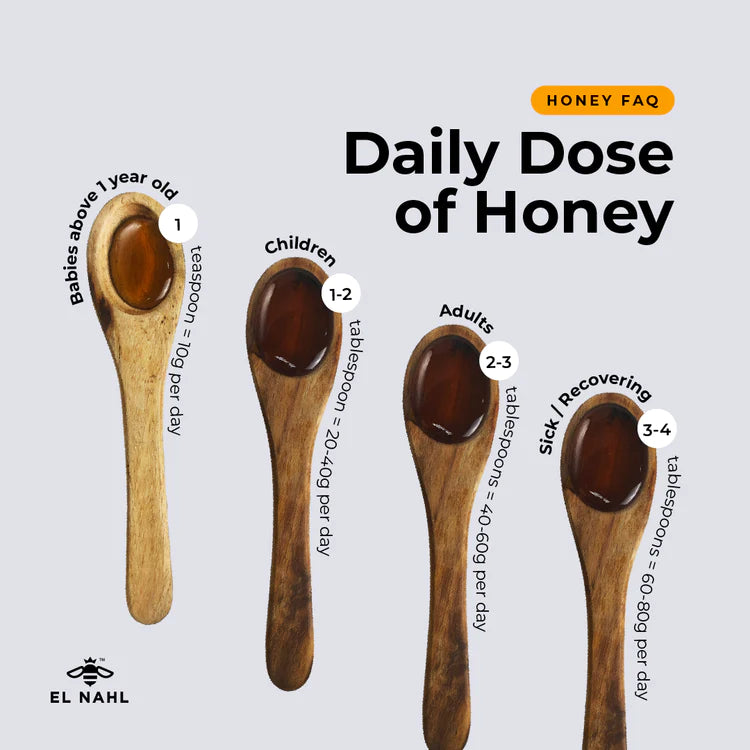 Can kids consume honey?

Kids above 1 year of age can definitely consume honey and our Black Seed honey is especially suitable for kids due to its texture and taste. They may consume it according to the following amounts: 

Below 1 year old: not suitable to consume honey

1 year old: 1 teaspoon daily

2-3  years old: 2 teaspoons daily

4-7  year old: 1 tablespoon daily

8-12  year old: 1-2 tablespoons daily
---
Is honey suitable for pregnant mothers?

Definitely yes! It is good for their immune system and digestive system and it can help increase haemoglobin for healthy red blood cell production (for anaemic mothers). Mixing our Black Seed honey with ginger or ginger powder will also help reduce nausea and vomiting.

Pregnant mothers who have GDM, must limit honey intake as too much honey consumption can raise blood sugar levels
---
Can diabetics eat honey?

Yes, definitely! Our sugar intake must not exceed 10% of our total energy intake. If your daily energy intake is 2000 kcal, then you can only eat 200 kcal of sugar, which is around 3 tablespoons of honey. Since our food intake may vary from day to day, then we would advise to take a maximum of 2 tablespoons of honey per day, limiting other sugar intake.
---
Which honey is suitable for kids/adults/elderly?

All our honey are suitable for kids (above 1 year old), adults, pregnant mothers, diabetics, and elderly! Because they are all Black Seed honey, just packed differently in glass jars, squeeze bottles, and sachets. You just need to choose the packaging of your preference!
---
How do I use it? Can I eat honey on its own or must it be mixed with water?

There are many different ways to enjoy our Black Seed honey. Our favourite way is to have it straight from the pack or mixed with a glass of warm water.

It can also be added to any food or beverage for a healthy indulgence
---
Does honey expire?

No, Honey does not expire. However, when stored for too long, it may get crystalised. You can easily de-crystalise the honey by putting the honey jar in warm water.
---
Are your products certified organic? 

Our products are not certified organic, but we do third-party test all of our formulas for pesticides, antibiotics and heavy metals to ensure that we only bottle the very best ingredients.
---
Choosing a selection results in a full page refresh.
Opens in a new window.